Posted by Kenzie on Aug 4th 2021
Are you ready to finish this summer off with a bang? We've got new and restocked products on the shelves and in transit, waiting for you to give them a good home!
Chala Handbags has proven time and time again to be one of our most popular brands that we carry. These PETA-certified vegan bags, purses, and accessories combine quality craftsmanship with a touch of whimsy. Every bag is inspired by nature, with a variety of flowers and animals skillfully embroidered in a fun style. Be bold and bright with a new purse or mini coin bag for on the go!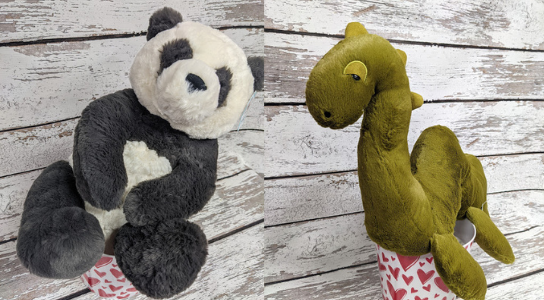 Another long-time shop favorite has just been restocked: JELLY CAT! These super soft plush animals are manufactured in England with the softest materials you could think of (no joke). A few of our best-selling animals have been restocked, and say hello to some new friends! Introducing Fossilly T-Rex, Curvie Hippo, Harry Panda Cub, and Nessie (the Loch Ness Monster!).
Michel Designs mixes luxury bath products with impeccable design. Some of the most popular scents are coming back, and say hello to fall scents: Sweet Pumpkin and Sunflower. Eucalyptus & Mint and Sweet Floral Melody are also Earle's newcomers. Take your pick of bubble bath, soap, candles, lotion, or grab the whole set!
For the garden decorators, you'll be excited for this one! We're expecting a new shipment of Garden Age decor soon! The exquisite hearts and spirals are made from repurposed stone, driftwood, and sea glass. These items usually sell quickly, so keep an eye out (due to the long-term economical effects of the COVID-19 pandemic, we are not yet sure exactly when we will be receiving Garden Age products).
Last, and certainly not least, we just got a HUGE restock on Scout Curated Wears! From floating stone earrings to empower bracelets, we have completely refilled nearly every item. Scout jewelry takes the natural beauty of the world around us and transforms it into modern jewelry with a bohemian twist. This jewelry is so versatile, you can dress any piece up or down. And don't forget that every stone that Scout uses has a specific purpose and message behind it. Show the world what you're made of with this unique line!
That's all of the "routine" restock we have so far, but what's this? Someone has already started setting up Halloween in our shop! It may be hard to believe, but fall is just around the corner, and we're already prepared to get spooky. Our Halloween Department 56 collection is currently on display in our store, with more scary amazing gifts and decorations coming soon. Even Harry Potter has made his appearance for this witchy time! Our full Department 56 inventory is available to view here, or come into the shop and see the entire village.
This fall and winter will be really fun with the girls at Earle's, so keep up with the current happenings on our social media (Facebook and Instagram)! We post plant/flower tips, new and hot products, and special announcements. We even hope to have fresh-from-home honey for sale next month. Don't miss a thing - there are some big announcements and events coming up soon!